Shop with confidence as we are 100% free from all palm oil *
The only way we can make this claim is to not sell products with any ingredients derived from palm oil, because once palm has been used to make another compound it is generally impossible to trace it back to where it was grown.  The palm oil supply chain is complicated and palm is used to make hundreds of ingredients that are used in 70% of personal care products like shampoo, cleansers, moisturisers, toothpaste and makeup. In fact, any creamy or sudsy item in your cupboard right now likely contains palm oil – including natural brands fronted by celebrities. But you will usually not see it listed with the word 'palm', it will be under a name such as Glycerine or Caprylic Triglyceride.  
Cruelty free needs to be palm oil free. Many brands and stores say they are cruelty free, but we don't feel this claim can be made if palm oil is involved.  Palm is used extensively in the personal care industry, but this catastrophic issue is swept under the carpet because the devastation is out of sight and it seems too hard and too costly to give up.
We have plenty of resources below if you wish to delve further into this topic.
*A brand may change ingredients without telling us, despite our request to make sure they do. We regularly audit our products, but should one slip through we remove it immediately from sale. The important thing is that we make a definitive, clear cut public statement to the industry that we will not accept palm oil being used; and that you as a consumer do the same by choosing palm oil free products. There are no wavy lines about being 'sustainable palm oil' at Biome as that is only band-aiding the root cause, which is the escalating demand for palm oil.
Harrison Ford gives a gripping insight into why we are taking this strong and passionate stance 
We can all play a part in reducing demand to help countries like Indonesia stop the deforestation.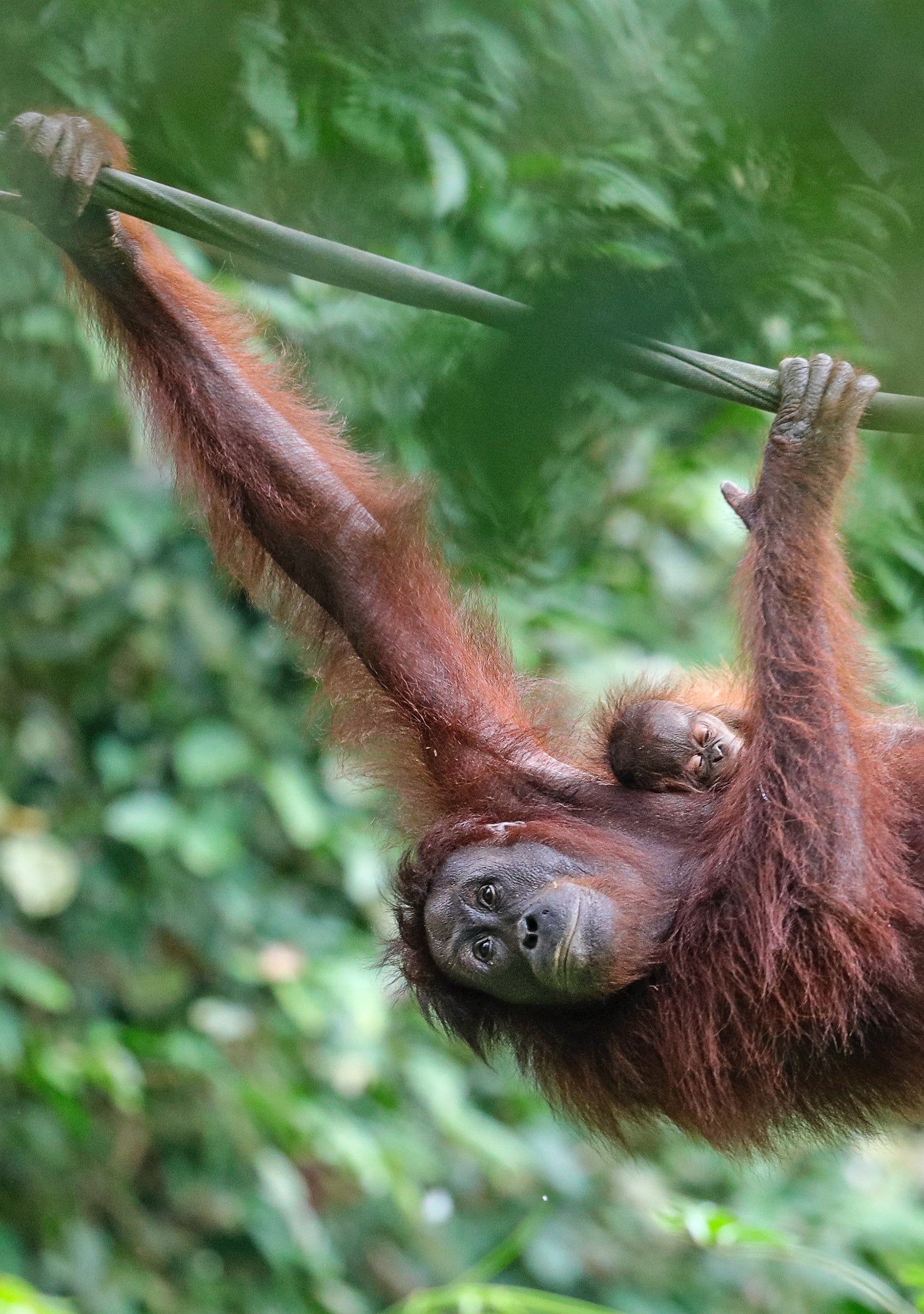 Something very special has happened at Biome. We acted to help stop the decimation of rainforest and animals by removing from our stores a large number of products with ingredients derived from palm oil.  This was not easy to achieve, and it is a big business risk because these are the products our natural shoppers are buying, but it is the only ethical choice for us. After 14 years of asking brands to declare palm oil on their packaging, nothing was changing.
This is one of the most serious issues facing the planet.  Deforestation for palm oil and logging in Indonesia and Malaysia is increasing global warming and sending orangutans, tigers and elephants to extinction. 
We are grateful to Palm Oil Investigations who guided us to achieve this back in 2017.  Today, we thoroughly check all products ourselves. We also speak out and advocate widely for change. Change is now happening – we are inspiring brands to reformulate without palm  – Tracey and the Biome team
Palm Oil explained
What is the problem with palm oil?

Palm oil is an edible oil from the fruit of the African oil palm and its use is growing rapidly due to its versatility, high yield, and low cost.
Palm oil monoculture is responsible for immense deforestation, carbon emissions from peat lands, fires, animal deaths and human rights abuses in Indonesia and Malaysia – called "conflict palm oil".
Palm oil is a hidden ingredient in almost every way it is used:

 

food, cleaning products, makeup, body care, and bio fuels.
For body care and detergents, it is used to make 1000's of synthetic ingredients with names such as Glycerine, Emulsifying Wax, Stearic Acid, Polyglyceryl Dipolyhydroxystearate, Caprylic Triglyceride, Cetyl Alcohol.
Most companies using palm derived ingredient have no idea where the palm came from.
99% of "sustainable palm oil" claims

 

have always been unreliable.
To be certain the palm in a product is sustainable, it must be kept segregated from plantation to end consumer – almost impossible!
A complex supply chain, hidden use, and fuzzy certification scheme allowed manufacturers to get away with the guise of "sustainable palm" for too long.
If the true environmental cost of palm is factored in (including carbon dioxide released when peatlands are decimated and wildlife deaths), and full traceability to source was required, it would be more expensive and less appealing to use.
Certified cruelty free, organic or vegan, is no indicator of a product being palm free.

There is a significant "glossing over" going on with natural and organic brands, as most are using palm oil derived ingredients and are not disclosing it on their ingredients listing. Some do not even realise they are as they have not fully checked their supply chain.

Many 'Cruelty Free' brands tell us everything they do not contain, but they seem to afraid to tell us that they do contain palm oil. Once an ingredient has been altered artificially it is identified by its chemical name, not its source.  Unless brands fully disclose all ingredients, you the consumer can not make an informed choice.  
What is Biome doing?

A message from Biome Founder, Tracey Bailey

Biome's mission from day one has been to be a part of the solution to the world's environmental problems. We think deeply about the whole story of the products we offer.  We aim to be financially secure so that we can continue what we love doing.

Since we began in 2003, we have spoken out about palm oil.  This followed on from my encounter with orangutans in Kalimantan that was the catalyst for Biome.

As a result of taking bold action in May 2017 for Biome stores to be 100% free from palm oil, a chain reaction is happening. Now, other Australian stores are talking about palm!  We are proud that our action is helping make palm oil matter. 

Every hour, 300 football fields of forest is cleared in South East Asia for palm oil plantations.Almost 80% of orangutan habitat has disappeared in the last 20 years.We are losing over 6,000 orangutans a year, 16 today.There are only 400 Sumatran tigers left in the world.Source:The Orangutan Project

We have learned that it is not possible to rely on a brand's assurances that they use "sustainable palm" because they generally have not obtained legally binding commitments from their suppliers. The problem is they use ingredients that their manufacturer buys from other suppliers. There are too many links in the chain and when inputs change for commercial reasons no one tells us.

Any body product that is creamy such as moisturisers, liquid makeup, or sunscreen requires an emulsifying agent to bind the water and oil together into a cream. That emulsifier is more than likely to be a palm oil-derived ingredient. Similarly, most plant-based detergents (or surfactants) are derived from palm or coconut, and the two are interchanged depending on seasonality and cost. If a brand tells us that their Stearic Acid, for example, is not palm-oil derived, we ask for a written guarantee of this. Once we asked for this, we found they could not guarantee it would not be palm.

In addition to Glycerin/e, palm is used extensively in the cosmetics and skin care to make 1000 synthetic compounds (by chemical reactions), such as Emulsifying Wax, Stearic Acid, Polyglyceryl Dipolyhydroxystearate, Cetyl Alcohol, and Caprylic Triglyceride. Manufacturers buy these ingredients from a chemical company such as CRODA who purchase palm oil from a mixed pool of sources around the world. You can see how difficult it is for the manufacturer of your moisturiser to know where the palm oil used in the emulsifying agent was grown.

Therefore, Biome no longer stocks any products with palm oil derived ingredients.  We are not saying that these brands are 'bad' because they rely on palm oil ingredients. The problem is the lack of transparency. Without full consumer awareness how will there ever be any push back to manufacturers and palm oil industry that the rampant deforestation and costs to the planet are unacceptable.  Here is a list of brands that we believe may contain palm oil derivatives >

This means that we are not able to stock many of the top natural makeup and skin care brands.  We do offer equally effective boutique brands that go to extra lengths to find a different way of doing things.  We seek out brands that use simple, close-to-nature ingredients, so that you have peace of mind about exactly what is in the products. We also have ingredients for you to make your own skin care.

We sincerely thank those suppliers who were transparent and assisted us, eventhough it meant we could no longer stock their range. 

Read more about my journey to Kalimantan's rainforest and orangutan habitat in 1996 here >
What you can do to make a difference

TOGETHER WE CAN MAKE PALM OIL MATTER!

The only sure way to help reduce the destruction caused by palm oil cultivation is to avoid all palm oil, including that claimed to be "sustainable".  Please support the products found at Biome that are 100% palm oil free.

Avoid palm oil in processed and packaged foods which accounts for 72% of global palm oil use (personal care and cleaning products 18%, Biofuel 10%).  Rainforest Action Network has published a list of 20 of the biggest snack food users of palm oil including PepsiCo, Unilever, Kellogg's, Mars, Hershey's, General Mills, Nestlé, Krispy Kreme, Dunkin' Brands, Kraft Heinz.

Join the Don't Palm Us Off campaign that is advocating for mandatory palm oil labelling in Australia. Palm oil is found in up to 50% of all packaged supermarket products yet is mostly hidden. Without clear labels you don't know if you're contributing to demand for palm oil. Write a message to your Minister here > 

"Adopt" an orangutan or give money to help BOS purchase a large block of rainforest in Borneo. Donate here > BOS Australia

Learn more from Biome's Great Resources:

How Palm Oil is Hidden the World's Most Glamourous Lipsticks

Guide to Palm Oil Free Toothpaste

Make Your Own Palm Oil Free Shampoo Recipe

Biome is a Finalist in the 2018 "World Retail Awards" for Our Palm Oil Free Initiative

We are always advocating for palm oil change and here is some of the media coverage

Watch an abbreviated version of Harrison Ford's Documentary The Last Stand.
Why is "sustainable palm oil" greenwashing?

We are often told by suppliers that they use "sustainable" palm oil. However, we believe this is unlikely and is an empty claim that confuses customers. 

The self-regulating industry body, the Roundtable on Sustainable Palm Oil (RSPO), uses a confusing certification scheme that allows a manufacturer to claim "Certified Sustainable Palm Oil" (CSPO) use for GreenPalm (which is merely a certificate trading scheme and no indicator of sustainable palm oil being used at all), or even for just being a member "working towards" a sustainable product!

Rainforest Action Network says: "Consumers are often misled by "RSPO certified" or "Green Palm" labels. These labels from the RSPO still allow producers to destroy rainforests and carbon-rich peatlands and violate the rights of communities and workers. See the RAN Factsheet here >

For most of the brands we have asked, there is little traceability as they are purchasing the palm oil derived ingredients second and third hand.  It takes many communications to find out whether there is any palm oil in ingredients such as Glyceryl Caprylate, Capric Triglyceride, Glyceryl Stearate, Potassium Cetyl Phosphate and Palmitic Acid, and then which supply chain was used.

How brands are meant to label "sustainable" palm oil.

Organisations such as The WWF and Borneo Orangutan Survival, require that manufacturers using palm must at least use Certified Sustainable Palm Oil (CSPO) and if they are, they must carry the official CSPO logo, and also declare the percentage of CSPO in the product, and the supply chain model.

This means that it is not acceptable to simply use the words sustainable or RSPO. 

Without the above detail of the supply chain and the percentage of CSPO in the end product, there is no assurance the palm oil is in any way responsbile. We have never seen a manufacturer give all this info. on their packaging.

Palm Oil Investigations announced in September 2016 that it had withdrawn support for the RSPO because it had lost confidence in its ability to manage its certification system due to repeated governance failures. POI only supports palm oil supply that is completely ethical, traceable and verified by trusted on-the-ground NGOs.  
RSPO palm oil supply chain models

Under the broken RSPO system, companies can place a "CSPO" logo on their products if the palm oil has conformed with any one of these RSPO traceability models!  We fail to see how these models help reduce demand for palm oil - rather, they perpetuate reliance on palm oil as a cheap industrial ingredient by giving the illusion of it being 'sustainable'.

Book and Claim (BC) & Green Palm: Allows trading of certificates to offset the conventional palm oil that ends up in a product claiming to be "sustainable palm oil".  Buyer pays a premium to the producer but continues to buy non-certified palm oil!  According to POI, "GreenPalm is a very cheap option for brands to purchase RSPO endorsed palm oil with a claim stating it supports the production of sustainable palm oil. It is important to note that the physical oil itself is not certified nor sustainable."


Mass Balanced (MP): Alarmingly, "Mass Balance" allows non certified palm oil to be mixed in with CSPO and sold as "sustainable".


Segregated (SG): CSPO is from diverse certified sources but remains physically separated from non-certified palm oil throughout the supply chain.

Identity Preserved (IP): The palm product delivered to the end user is uniquely identifiable to a single mill and source, and that it is kept isolated from all other palm sources throughout the supply chain (meaning you could visit the plantation, or at least look at it on Google Earth!).

This diagram explains the Mass Balance supply chain for palm oil that ends up in a product labelled as Certified Sustainable Palm Oil.

 
Is there a law requiring palm oil to be labelled?

Australians unknowingly consume on average 10 kilograms of palm oil each year and unclear food labelling makes it hard for people to exercise their consumer choice.

The same applies for skin care, cosmetics and cleaning products. We are all unknowingly using palm oil and its derivatives on our body and there is no requirement for it to be labelled.

Companies could choose to reveal that palm oil is used, but sadly most seem unwilling. Our feeling is because they know that if they did, there would be a negative response from consumers.

There is an organised movement for mandatory palm oil labelling for food to become a reality in Australia.
For smoother, brighter, more glowy skin, Vitamin C is one of the best ingredients to add to your daily skin care routine, particularly products packed full of Kakadu Plum, a naturally rich...

For smoother, brighter, more glowy skin, Vitamin C is one of the best ingredients to add to your daily skin care routine, particularly products packed full of Kakadu Plum, a naturally rich...
Easy Returns

45 day returns in-store and online

Recycle with us

Return eligible products for recycling

Eco friendly packaging

Plus we offset shipping emissions

Loyalty Club

Join the Be. Club and save